Gentleman friend and I are still undertaking an extended break from one another. It's been two months since we've engaged in any of the that hanging out together, cuddling, kissing and spanking business that used to take up quite a lot of our weekends.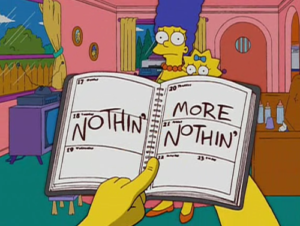 This is what my social calendar looks like right now.
It's just the way it is. And I don't want to moan about it. Well, actually, I do want to moan about it quite a lot. But, you know, it's hardly a unique situation. Non-cohabiting couples up and down the country are currently finding themselves negotiating a long distance relationship that they weren't expecting.
In the last week, my thoughts have turned to long-distance sex toys. The world has the technology, it turns out, to control one another's orgasms through a smartphone app. It's like living in the actual future.
The vibrator that I am very, very close to purchasing is this one:
"Stay intimate with your partner from anywhere! Sync the vibration with your favourite erotic audiobooks! Waterproof for fun moments in the shower!" This is a thing I need in my life (and my knickers), right?
Well, there are a couple of things still holding me back from clicking the 'purchase' button.
Firstly, the cost. I'm not going to get much change from £100 which is definitely at the pricier end of "things I fancy just for the hell of it". It's a reasonable investment, I suppose, if I knew I was going to get my money's worth. But that brings me onto point number two which is that Gentleman Friend and I aren't currently doing any kind of mutual long distance masturbation at all.
Our text and phone conversations are at least 80% smutty talk and we've done a couple of naked video calls. But we've not actually done any wanking together. And I think that maybe before I spend the best part of a days wages on a pretty new toy, we should explore the much cheaper masturbatory aids on offer. Like, well, him just telling me over the phone to pleasure myself and then me doing it.
It's nice that this lady has taken her Vibease out to show it the garden.
I'm not sure why we haven't. Embarrassment is probably part of it. Which is odd because when we meet in the real world, we're absolutely shameless. I think the fact that my libido has plummeted since lockdown is a large factor. Wanking isn't really happening in my life at all at the moment. It isn't something that it occurs to me to do during my alone time. This is a new thing. Normally, I'm quite the fan of quality me time.
There is, of course, a compelling counter-argument to me telling myself that I shouldn't buy a masturbatory aid because I'm not masturbating enough. Maybe a "smart massager" is exactly what I need to rekindle my wanking habits. Maybe my clitoris is feeling a bit bored and jaded and a Barbie pink silicon friend would perk it right up. Especially if Gentleman Friend was taking charge of the controls. He is usually far more thorough with regards to my pleasure than I am.
I am not sure what is going on here. Has it escaped? Is it making a bid for freedom?
So am I going to buy it? Maybe, yes, no, possibly, definitely, probably not… Decision-making is not really my forte at the moment.
I think I will spend the evening, adding the Vibease to my shopping cart, then changing my mind and removing it and then putting it back in five minutes later.
Hey, at least doing that will pass the time.